The Apple 1 Registry
A Virtual Museum of Original Apple 1 Computers
46 units positively identified to date!
last updated January, 2013
If you have more information send me
email
Serial Numbers - NOT!!!

Some original Apple 1s are found with numbered labels or numbers written directly on the PCBs with a black marker. These are not serial numbers. According to Steve Jobs, those numbers were not placed on the units by Apple. I have an unconfirmed feeling that numbered stickers are inspection numbers used by the PCB manufacturer/assembler. An interesting fact is that there are two Apple 1's with stickers numbered 49 affixed to the back side. There is another set of boards with numbers written with black permanent markers on the back of the boards. Anecdotal evidence, by people that should know, are that those identifying numbers were added to the motherboards by Byte Shop(s).

If you have an original Apple 1 and want to contribute to this effort, drop me an email. Once I feel that your unit is likely to be authentic, and not a duplicate, it will be categorized into the batch that I believe that it would have come from and added to this registry. Upon request, I will withhold your name and personal information.

Be aware that not all originals are listed here. There are several existing Apple 1's that the compliers of this list are aware of, through word of mouth. However, no images (concrete evidence) has been seen, so they are left off the list.

Since Apple 1's change hands so frequently, there is some possibility that units could be listed twice in this list, especially those units without distinctive enclosures or quality images of the motherboard. I do my best to filter through available information in order to prevent this.

Warning

In the past, there has been at least one known attempt to sell a reproduction Apple 1, as an original. Reproductions are getting harder and harder to tell from originals. Some builders of reproduction Apple 1's have gone to the effort to find components with the same manufacturer and date code as were used on original Apple 1s. When these components could not be found, chips have even been relabeled to reflect date code correct parts. At this point, as far as we know, no hobbyist have done this to deceive potential purchasers, but the potential is there. There is also growing potential for people who have inherited a reproduction to accidentally misrepresent a reproduction as an original.

It is hoped that this list will be helpful in authenticating original units. Do to the increasing quality of reproductions, be aware that even the maintainers of this list could potentially be confused by a fake, which might end up on this list. If you are in the market for an original Apple 1, be extremely careful about what you are investing in.


---
Components:
Check out this Applefritter Post for an initial description of components used in at least 2 batches.
http://www.applefritter.com/node/24536#comment-59895

This is the beginning of a spreadsheet showing as much component information as can be determined for each unit.


---
WOZ's hand wired prototype (1 unit in this catagory)
---
Woz - first prototype

http://www.cedmagic.com/history/apple-1-2-steves.html
http://www.youtube.com/watch?v=ul7NkLGtD84

At one time in Apple Computer's History display - Woz indicates that the current location is unknown

Steve used point to point soldered wiring rather than wire wrap because it was easier to follow the wiring once built up
It is possible that a second unit was built - Woz's memory is hazy about number he made.
---
First PCB Run (23 units in this catagory)
No NTI logo in the copper layer under the "Apple Compluter 1"
---
Liza Loop - # unknown

http://www.technologyreview.com/infotech/18658/

This is supposed to the the first production unit that was delivered to a customer.
Has a rare white 6820, but a non-whte 6502
Some notes from Liza about her Apple 1 (thanks to Cameron for passing this along)

"The missing memory chips may never have been there. Or, we may have
moved them to Apple II"
"I know I lent the original 6502 to a friend and he never gave it back
(probably in 1980 or so). The 6502 that is in it now was handed to me
at the Vintage Computer Festival at the Computer History Museum in Mt.
View, CA several years ago."
"This particular Apple I never worked reliably. I took it back to Woz
and complained that I couldn't use it in the classroom because it took
20 minutes to load BASIC and it crashed so often we couldn't do
anything in a 40 minute class period. He kept it for a couple of
months and then returned it with the jumpers you see on the back. When
it was still flaky he said he had a surprise for me and I should wait
a little longer."
---
W. Sanders - byte shop 01-0024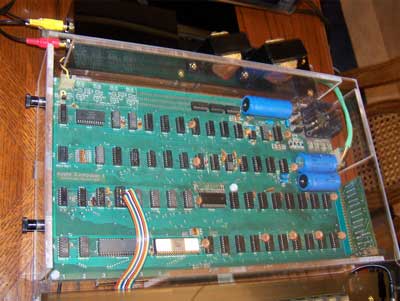 image courtesy of wsander

Details of recent restoration can be found at: http://www.apple1notes.com/Home/Hello.html
White 6502 and disk capacitors
Five blue 22uF caps
I have a comprehensive component list for this board detailed in spreadsheet
One of the few operating original Apple 1s
From Wendel's web site - this was purchased from a Byte Shop on Blossom Hill Road in South San Jose, CA in August, 1976.
Has 01-0024 in black pen on back. This is supposed to be a serial number assigned by the Byte shop
---
Framed Apple 1 (1 of 4) - Auctioned - August 2010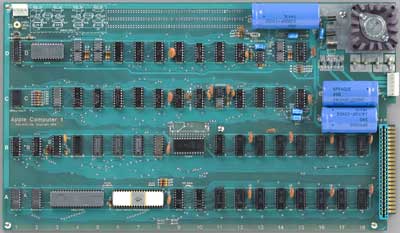 http://www.artfact.com/auction-lot/an-apple-i-apple-1-early-personal-computer-with-1-c-b8a066d9bb
One of four units framed by an Apple 1 enthusiast in 1993.
White 6502 and disc capacitors
Black plastic DRAM
Five blue 22uF caps
Very similar component mix to Wendell Sander's, however is missing byte shop serial number.
Sold by this Apple 1 enthusiast to "former Apple executive"
Auctioned in Aug, 2010, consigned by "former Apple executive"
Auction found no bidders
Purchased by Texas based collector after the auction
This one works
Texas based collector sold this one to same collector that purchased the Huston Brothers ebay auction 160413355114
---
Joe Copson's Apple 1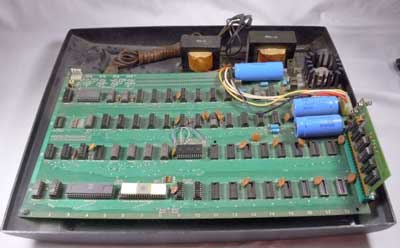 Joe Copson was an Apple Computer employee
Unique case
White 6502
Missing DRAM
Put up for ebay auction in December 2011 with starting bid of $170,000 - failed to sell
Includes ACI card
Put up for auction at Christies in October 2012 and did not meet reserve

---
Huston Brothers - #unknown (7 or L stamped on back in a circle)



http://apple1computer.blogspot.com/2010/03/another-very-nice-apple-1-sold-on-ebay.html



Grabbed off trade-in scrap heap from Job's office
White 6502 and disk capacitors
Huston Brothers had 2, this is the one sold in ebay auction 160413355114 for $42,766.
---
Huston Brothers - #2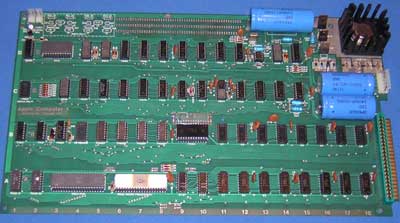 Grabbed off trade-in scrap heap from Job's office
Photo courtesy of Cliff & Dick Huston from Ebay Auction, June 2012
With cassette interface card
The ROMs, one of the voltage regulators, and the video pot have been replaced
There are two traces on the back side have be cut and repaired
White 6502 and disc capacitors
Sold on ebay for 75,600 on 6/6/12
---
Winston Gayler's Apple 1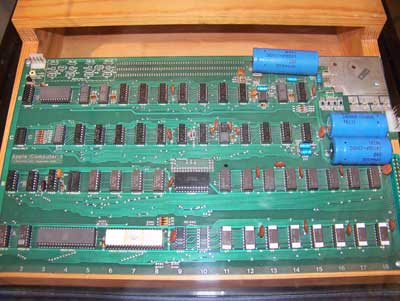 image courtesy of wsander

Purchased from Winston Gayler by Computer History Association of California (now defunct)

This occurred due to a donation by Larry Tesler (at one time, chief scientist of Apple) in late 1993 or early 1994

Included complete spare chip set, sealed original manauls with duplicates
cassette software, program listings, schematics, correspondence, articles, magazine ads

Displayed at FRYs in the late 90s
This one is said to be on loan to the Computer History Museum from WOZ's personal collection (not true).
The acquision record available online shows it was actually donated by the Dysan Corporation.
Some power supply components are missing - Woz might have used this board for voltage margining (conjecture)

White 6502, disk capacitors and rare white 4096 DRAM chips
---
Joe Torzewski's Apple 1

http://torzewski.tripod.com/apple1computer/

I need better images to be sure that it belongs in this catagory
White 6502 and disc capacitors
Could be Byte Shop #01-0051
---
Rick Conte's Apple 1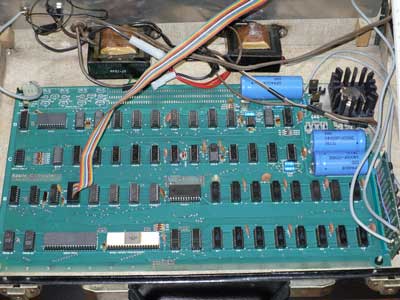 Mounted nicely in briefcase
Donated to the "Maine Personal Computer Museum" in 2009. The Museum at this time is a rather nice collection, who's owner is looking for a place to display in public..
White 6502 and disc capacitors
There is some chance that Rick Conte obtained this machine from Stan Veit and it is the one Stan displayed at the ACM show in 1976. However, confirming this will be difficult.
---
2003 VCF Auctioned Apple 1

http://www.vintage.org/special/2003/apple-1/

In wood case
A significant amount of rework/wires on motherboard
White 6502 and disc capacitors (white 6502 is reported as damaged, so could have been replaced)
Has 01-0011 in black pen on back. This is supposed to be a serial number assigned by the Byte shop
---
Computer Closet Collection

http://www.computercloset.org/apple1.htm

White 6502 and disc capacitors
A lot of wires added to the proto area
Gold Topped DRAM
---
Charles and Edythe Ricketts

http://www.macgeek.org/museum/appleone/

In a blue enclosure
Purchased in July/Aug of 1976
White 6502 and disc capacitors
Some wires added to the proto area
Sold at auction at La Salle Gallery to Captain O'Mahoney in June of 1999
---
Shown In Tom Owad's Applefritter Gallery

http://www.applefritter.com/image/uid/1?from=120

White enclosure with black bezel around keyboard and toggle switches next to it
white 6502 and disc capacitors
Datanetcis keyboard rev B keyboard
Lots of wires on back leading to proto area
Fairchild "16K" DRAMs - so this board probaby has a 20K memory mod
---
Computer Museum in Bern

http://www.applefritter.com/pictures/index.html
http://www.macprime.ch/news/article/berner-museum-zeigt-den-legendaeren-apple-i/

Description is of the board in the Applefritter pictures!
The board in picture from the Bern museum is different than the Applefritter pictures, but I'm told the machine in the Applefritter pictures was sold to that museum.
Plastic 6502 and ceramic caps
---
Jim McCaig's - byte shop #40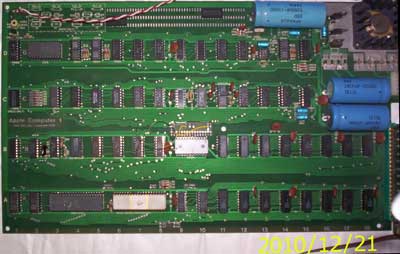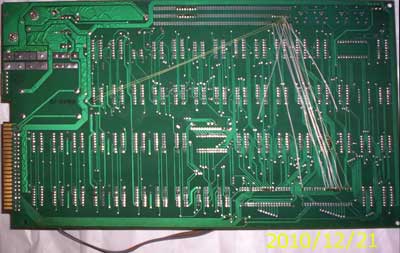 numbered 01-0040 in black felt pen on back
no NTI logo under Apple Computer 1 Logo
Cassette interface
Tan Apple-I Operations Manual
Cassette Interface Manual
Believed to have been purchased by Jim @ the Byte Shop
Missing 7432 @ C9 was said to have been lent to "Joe" (Jim's friend / original Apple employee)
Rest of parts are presumed to be original
Jim was a junior high school teacher in Miller Jr. High in Cupertino & Math text book author
Jim passed away in 2007 and the unit is in the family's possession
---
2002 VCF auction

http://www.wired.com/gadgets/mac/commentary/cultofmac/2002/04/51907

White 6502
Black plastic DRAM
Unusual green keyboard connector
All 22uF caps are blue
This auction won by Roger Wagner well known as the creator of HyperStudio
---
Byte Shop 01-0060 (LCF group #2)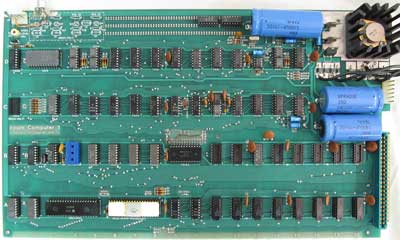 White 6502
Video RCA connector added
Looks like power supply connector bypassed
Puchased from Adam Duston in the 90s
I have more details on this one and will be updating this page
---
John Burch - byte shop 01-0013 (LCF group #4)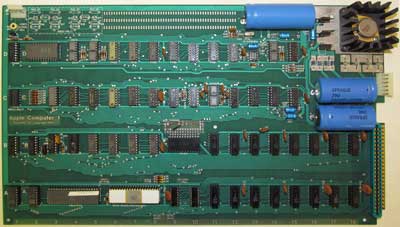 White 6502
In wood case (not pictured)
I have more details on this one and will be updating this page
---
Rudie Hoess's Apple 1 - Powerhouse Museum in Sydney, Australia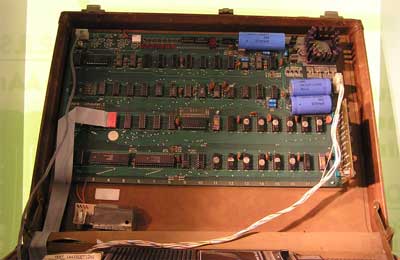 ---
Rack Mounted Apple 1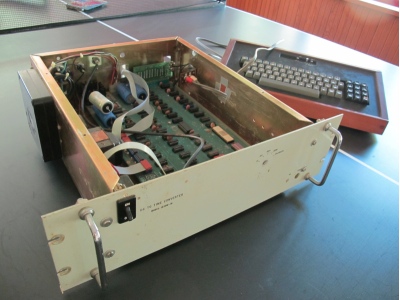 This unit has been put into a converted rack mount style enclosure
It has some additional logic added in the prototyping area, where the keyboard input circuit is connected
It includes a custom redwood keyboard enclosure
Ceramic 6820
White 6502
An additional capacitor strapped in parallel to the 5300 MF Sprague cap
Also includes this interesting letter dated April 2,1979, showing that the Apple 1 trade in deals were forgotten and no longer in effect by then.

---
Christie's June 22, 2012 Auction

http://www.christies.com/lotfinder/books-manuscripts/computing-apple-1-personal-computer-an-5578235-details.aspx?from=salesummary&intObjectID=5578235&sid=77a3f0f9-7f14-4a01-98d7-529e0f251c97

Did not sell
Purchased in 1978 by proprietor of a retail computer store in Northern California
4K DRAM
Apple Cassette Interface (ACI) card

---
Operated at VCF Midwest in 2011 and 2012

http://www.lyonlabs.org/commodore/eccc-2012/22-apple-one-1024x768.jpg

A unit has been operated at VCF Midwest for the past couple of years
This unit was operating and running star trek
Plastic 6502
Apple II power supply and keyboard
apparently extra RAM supplied on breadboard

---

Seen at De Anza College Vintage Computer Display Dec 29, 2007

http://commons.wikimedia.org/wiki/File:Apple1_MLB.jpg

Little is known about this one - but it appears that all the chips have been removed at some point
Monolythic decoupling caps - this could be an NTI board, but the NTI logo can't be seen, perhaps because of the poor image quality
Could this be the missing mate to Glen Hoags machine? (see below)
---
Second PCB Run (17 units in this catagory)
NTI logo in the copper under the "Apple Computer 1"
---
Jef Raskin's Apple 1

http://www.digibarn.com/friends/jef-raskin/apple-1/index.html
A white 6502 and plastic film decoupling caps
Jef has passed away - appears to be in the possesion of his wife
Failed to sell at auction in June of 1999.
---
Larry Nelson's Apple 1

http://www.rickcrandall.net/article32.php

Originally purchased in June, 1977
Purchased by Rick Crandell in December 2002, with a lot of extras, including a PR-40 printer and misc documents.
Case was built by Rick
White 6502
plastic DRAM
ceramic 6820
---
#37, 2000 VCF Auction, Ray Borrill

http://www.vintage.org/2000/apple-1.html
http://www.bitsavers.org/pdf/apple/apple_I/

This Apple-1 is the last remaining of an order of 15 placed by Indiana computer-chain store owner Ray Borrill in late 1976.
Black plastic DRAM
3 gold, 2 blue 22uF caps
Triad transformers
Uses DO-27 form factor rectifier diodes for +5Volt supply (either MR-500 or A-14F)
A very unusual white Synerteck 6502 and plastic film decoupling caps
Also an 8 in a circle is stamped on the back
I have a comprehensive component list for this board detailed in spreadsheet
May be in operating condition
This is the unit sold at auction for $14000 at the VCF, 2000
Currently can be found on this asian web site
---
#37 Fred in Louisianna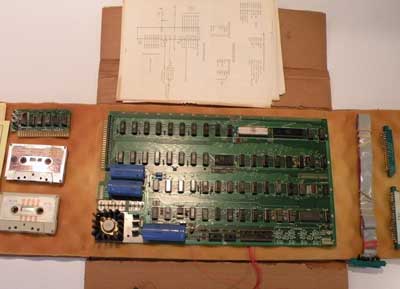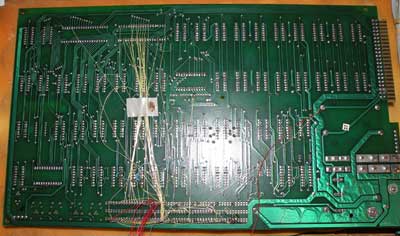 ACI, tapes documents, and the original box!
Owner has added an interface to a selectric printer
Owner complained to Apple about limited software availablity - Apple offered to exchange his unit and $400 for an Apple II - see this remarkable letter from Jobs about it
3 gold, 2 blue 22uF caps
White 6502 and black plastic DRAM
Sold to a Texas based collector in fall of 2012

---
Dave in Arizona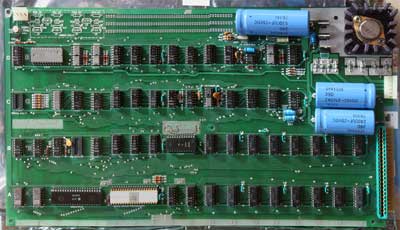 Also with #37 sticker
Purchased by Dave "a long time ago"
Black plastic DRAM
1 gold, 4 blue 22uF caps
Triad transformers
White 6502
Dave says cassette interface, keyboard and transformers are still with this unit
---

Computer History Museum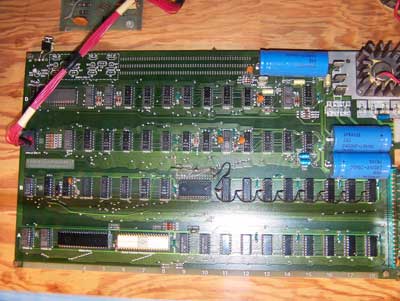 image courtesy of wsander

Location: Computer History Museum (one of two at the museum)
This one is possibly a later production board, possibly with a 16K memory mod (I need to research this modification further)
White 6502 and plastic film decoupling caps
---
LCF group #3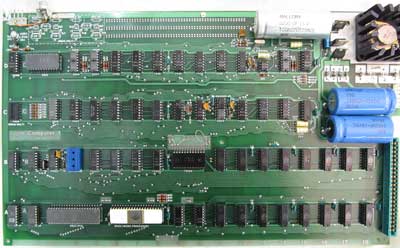 White 6502 and plastic film decoupling caps
Puchased from Adam Duston in the 90s
77 stamped on back
Blue (replacement?) keyboard connector
Added RCA video connector
I have more details on this one and will be updating this page when I get time
---
Ebay Auction 320585219846, Sept 2010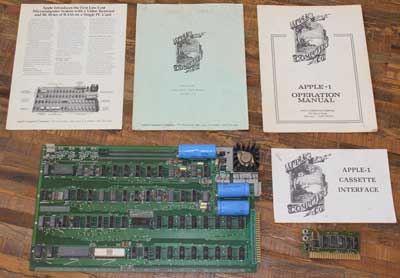 NTI board
White 6502
hasn't been operated in 10 years
rework connecting PIA to proto area with multi- color ribbon cable
no number sticker on back
this one sold to same collector that purchased the Huston Brothers ebay auction 160413355114
traded to another collector for a Cray 1
brought up to operational state and auctioned at Sotheby's for 374,500 on 6/15/2012

Buyer is reportedly from Korea and is reported to be putting together a Computer Museum

---
#43 - Glen Hoag's Apple 1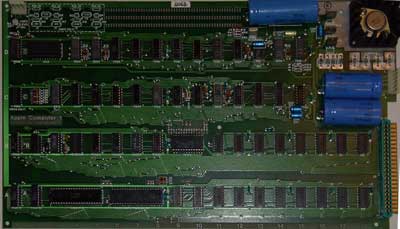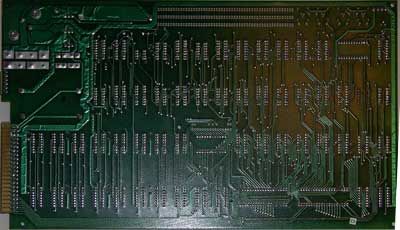 Acquired from a high school student around 1980 or 1981 while working as a tech at Computerland/Belmont
Most chips were pulled prior to Glen acquiring it
Many replacement chips have been found
Hasn't been powered up
Monlythic caps and GE14F diodes
There was a twin to this unit, acquired from the same high school student, by John Burr, co-owner of the ComputerLand/Belmont, but it's current status is unknown
---
The "cursed" Apple 1

http://pagesperso-orange.fr/fabrice.montupet/apple1.htm
http://silicium.org/site/
http://www.silicium.org/oldskool/apple/apple1.htm

Presently owned by Silicium, a museum type organization. Located in France
Here is the story of this unit

It comes from United States. The present owner has family living in the USA and they found it. It was around 1995 or 2000. The computer stayed in US for a while before they sent it to Silicium (the present owner). The old guy who gave it to the present owner's Uncle was working with the owner's Uncle in US Air Force (possibly at Beale) and was a radio hobbyist. He has since passed away. Also the present owner's Uncle has died, which makes the owners think that this computer is cursed.

The case was a sort of wooden wine box that was tossed out because of the lack of space. The keyboard doesn't seem to match (??). There is no cassette interface and the computer is not working. It seems like it was configured for a 6800 and that some chips are missing. Silicium was thinking of hidding a replica somewhere for exhibitions, but decided not too. The computer is regularly lent for exhibitions. It's "on a tour" for now, but when it comes back (in 2011), it may be put it in an other box.

To finish the story, Silicium found a beard hair on it which they think is from Woz's beard.
This first page reveals that the mysterious brackets on top of the case are intended to support a monitor (also seen on Smithsonian unit)
---
Monroe Postman- #49 sticker on back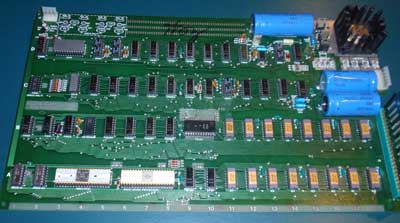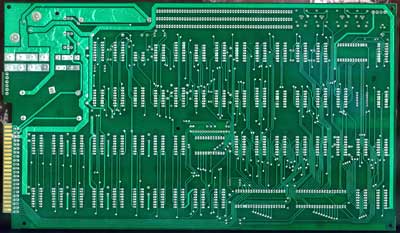 Reported to have been found in garage sale by Monroe!
Missing parts replaced, but never powered on
Plastic film decoupling capacitors
I have a comprehensive component list for this board detailed in spreadsheet
Sold for $17,000 in Ebay buy it now auction #320431509242 in Sept 2009
Now owned by proprietor of www.oldcomputermuseum.com website.
Restored to operating condition
---
LCF group #1 - #49 sticker on back: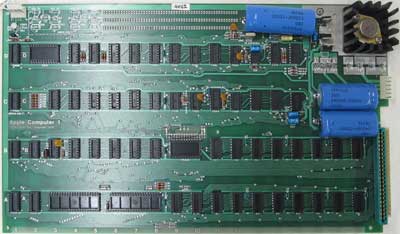 Never populated
4062 label on front
Purchased from Adam Schoolsky by LCF group in 90s
I have more information on this one and will be updating with details
---

#82 on sticker on back (Christie's Auction Unit)

http://4.bp.blogspot.com/_zxI22dsOsAo/S5B-X0UKw8I/AAAAAAAAAbU/URE_2ErXPnk/s1600-h/Picture+2.png

At one time purchased from Frank Anderson, an electronic dealer in Great Falls, Montana by Craig Solomonson for MECC. Craig reports that this computer was sold by Jobs and shipped from his parents address. Woz seemed a bit confused when Craig showed him the invoice and asked about it. He said "Not sold by us, although Job's may have sold it without telling me."
Sold by Craig to Jesse Sackman in California
$50,000 unit sold in Ebay auction 320447681957, late in 2009
Plastic film decoupling capacitors
This is the unit auctioned by Christies in London for 133,250 pounds in November of 2010 to Italian businessman and private collector Marco Boglione
---
American Computer Museum

http://www.compustory.com/index.html

Black plastic DRAMs
1 22uF cap is gold, 4 are blue
white 6502
NTI
---

depicted at it-history.net

http://it-history.net/forth_generation.html

Little information available - image of unit in display case
ceramic/gold 6820
probably NTI, due to presence of plastic film capacitors
---
Science Museum of London

http://www.makingthemodernworld.org.uk/icons_of_invention/technology/1968-2000/IC.094/
http://commons.wikimedia.org/wiki/File:Apple_I_computer.jpg
NTI board
Plastic film decoupling capacitors
Lots of rework around DRAM area.
---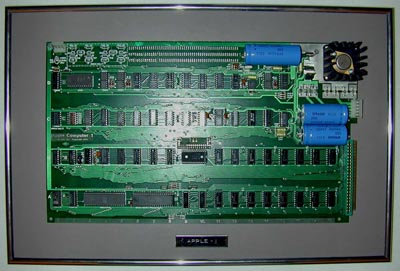 Framed Apple 1 (2 of 4)

One of four units framed by an Apple 1 enthusiast in 1993
When purchased in 1993, computer was tested and in running condition
Craig Solomonson reports on the story of this board

Purchased by Craig, a MECC Software Designer, in November of 1993 for $2500

This was about the same time that Craig found #82 for MECC. Craig thought that the MECC computer [#82] was neat and he managed to trade this one for #82 in the box. When MECC went away in 1999, the former MECC executive, took this one with him.

Computer had been upgraded to 20K but was restored back to the original 8K
Reacquired by Craig Solomonson in 2011
Has the NTI logo and a black 6502
Sold to Rudi Brandstötter. Rudi has powered up this unit and it is working. The keyboard adapter is one of mine. http://www.youtube.com/watch?v=ysMfjU--h8U&list=UUe8Jjxugh8ywvFHO0CsBy9w&index=1&feature=plcp
Sold at auction in fall of 2012 for 491.868 euros

---
No PCB Information (5 units in this catagory)
---
The Smithsonian's Apple Computer

http://www.computersciencelab.com/ComputerHistory/HtmlHelp/Images2/Apple1.jpg

Details unknown
No longer on display - the computer display has been dismantled
---
The Startup Museum in Albuquerque, NM
http://www.startupgallery.org/gallery/item.php?ii=27

This is the Apple 1 computer that Sellam Ismail sold to Paul Allen for $28,000
Details unknown at this time - appears to have a Datanetics keyboard
---

Nixdorf Computer Museum

http://en.hnf.de/default.asp
http://www.appletalker.net/forum/index.php?req=thread&id=1260

Details unknown - probably monolithic caps
---
Framed Apple 1 (3 of 4)
One of four units framed by an Apple 1 enthusiast in 1993
This enthusiast kept this unit

No details available
---
"Enter" computer museum in Solothurn, Switzerland

http://www.enter-online.ch/

I'm told that it is working

---
units below here not counted in total count because of the lack of detailed information
---
Current Status Unknown (3 units in this catagory)
---

Byte Shop 01-005, Jean Louie Gassee's Apple 1

Jean was head of Apple's advanced product development and worldwide marketing at one time
Here is Craig Solomonson's story of this board

Craig Solomonson who worked at MECC was looking for an Apple 1 and during a meeting asked Steve Jobs if he could find an Apple 1. Steve replied that none were available. However, Steve's traveling secretary, Mike Murray, heard the conversation and took Craig aside. He gave Craig, Joe Torzewski's number and a few months later I traveled to Indiana and traded him a complete Apple II system with lots of software for my first Apple 1. It was one of the original batch built for the Byte Shop. Woz verified that for me. The Byte Shop has put their own serial number on the back in black ink....it was "01-0005." Joe had "01-0051" and it had been upgraded by Woz and was in a special case that he made. I had this computer for about 5 years. In about 1987, our family wanted a new van that cost about $20,000. Well, Jean Louie Gasse wanted my Apple 1 to hang in his office, so the deal was done. Apple bought it from me for him. My spin on this deal was, "Woz and jobs sold their van to finance the Apple 1. I sold my Apple 1 to finance my van!"

---
Framed Apple 1 (4 of 4)
One of four units framed by by this Enthusiast in 1993
no data available
---
Bob Roth's Apple 1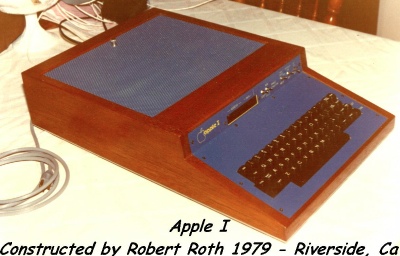 I'll let Bob tell the story of this unit

"My name is Bob Roth. I bought an Apple 1 computer at a computer store in Orange County, California in the late 1970's. I paid $40.00 for the circuit board which included the audio interface board. They had 2 Apple 1's there, but the other one didn't have the audio board with it. And besides, who needed more than one computer anyway?

I constructed the case that is shown in the photos. I mounted the mother board on a piece of 1/4 inch aluminum and then built the rest of the case out of mahogany. My Dad owned a plastic engraving company at the time so I had him engrave the front panels for me.The ASCII keyboard was a Radio Shack kit that you had to solder the keys onto a circuit board. I added more RAM memory for a total of 20K. I did this by stacking the 4K RAM chips on top of each other, bent out the chip select line from the chip, and then constructed a address decoder in the prototype area of the mother board. I also printed out the BASIC program code using a PR-40 printer that I had and then blew the code into PROMS. I constructed a circuit board with the PROMS on it that attached to the second connector at the rear of the main board. From then on I could start BASIC by just typing the E000R command. The display was a black and white TV that my Mother had. I had planned to do more mods to the computer like a data and address display along with single step capabilities, but never finished it.

By this time, (1981) Apple 2's were everywhere. There was a new Apple store opening up in Riverside, California where I lived. They knew I had built my Apple 1 and asked me to display it for the grand opening of the store. Steve Jobs was to be the featured guest for the opening of the new store. Jobs saw my computer and was asking me some questions about it. He then asked me if I would like to trade it for a new Apple 2 computer, with a disk drive and the Pascal language system. About $2000.00 worth of computer at the time. He said Woz would love to have it back. I was in college at the time and had no money. And I really wanted a new Apple 2. So I made the deal. He gave me his business card and told me to call his secretary and have her set up the trade. I took my Apple 1 to Apple in Cupertino. They escorted me into the building and into a conference room. They had a release form already printed up and ready for me to sign. So I left my Apple 1 there. I still have the Apple 2. Obviously not the smartest move I ever made.

So I have a question. Have you seen this Apple 1 anywhere? I saw a picture of it on the Dot Eaters German web site http://www.8bit-museum.de/ but that's about it. There was also a picture of it in the old A+ magazine years ago. I'm just curious who wound up with it."

---
Under Investigation (1 units in this catagory)
---

http://homepage2.nifty.com/56thWAREHOUSE/APPLE1/APPLE12.html
---
Historic Units (3 units in this catagory)
Units seen in historic images
---

Apple 1 in advertisement #1- one with white 6502 and 6820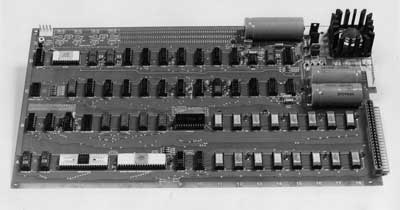 http://www.macmothership.com/gallery/gallery1.html
It is not known if this units still exists.
The close up image of the board was provided by Wendell Sander, who found it in his stash of old Apple stuff. It is apparently the same image as used in the ad. The original picture is sharp enough to easily read all the date codes on the chips. This board is unique in that it doesn't have the NTI logo on the PCB, but it has the same caps as used on later NTI boards. The white 2513 is a GI part. The 2504 data codes are later than some first run boards. This is probably a board built espcially for the advertisment as no known board has this combination of components.
This and Liza Loop's machine are only units known to exist with a white 6820. However Liza's has ceramic disk capacitors, and this one doesn't, so they are clearly two different machines.
---
Apple 1 in advertisement and photographs #2- the one with white 6502

http://www.macmothership.com/gallery/gallery1.html

This is a fairly common configuration and a number of pictures show the Steve's holding a unit of this configuration.
It is not known if any of these units still exists and because of the common configuration it would be hard to confirm.
White 6502 and disc capacitors
---

Paul Terrel's Image of possible prototype Apple 1
http://techland.time.com/2012/11/22/behold-some-of-the-first-apple-computer-photos-ever/


this image shows a unique motherboard with some unique components
the current location of this board (if it exists), is unkown

---
Misidentified (1 unit in this catagory)
---
Stanford University

Supposedly, an Apple 1 PCB that was donated along with a lot of Apple Computer, Inc., historical items and documents in 1997
The donation documents says that it is dated 1977, which made it likely that it is actually an Apple II.
I've had it confirmed by the librarians at Stanford that the copyright date is 1977 and this is an Apple II rev 0. The interesting thing is that this is a bare Apple II rev 0 PCB, one of two that I know of. The other was auctioned off by the Huston brothers, at the same time that they sold one of their Apple 1s.
---
Example original Apple 1 Systems seen on Ebay

I've decided to log the ending prices of those auctions I've noticed on this page.

| | | | |
| --- | --- | --- | --- |
| Year | Auction | Note | Selling price |
| 2009 | 320431509242 | buy it now auction | $17,000.00 |
| 2009 | 320447681957 | buy it now auction | $50,000.00 |
| 2010 | 160413355114 | pristine motherboard and accessories | $42,766.00 |
| 2010 | 320585219846 | rework in proto area, assortment of accessories | $22,766.66 |
| 2012 | 160810171525 | 1 Bank DRAM, with ACI card - some replaced components | $75,600.00 |
---