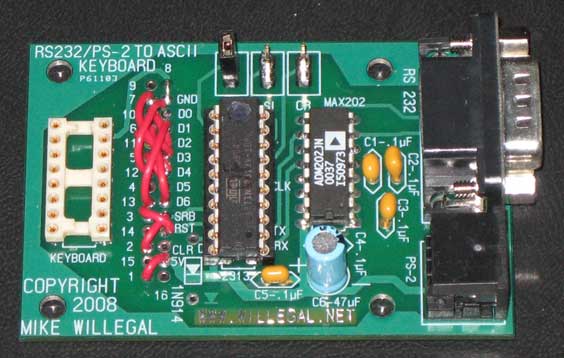 Built Up Kit - Configured for the Apple II
ASCII to PS/2 Keyboard Adapter
This board converts either a PS/2 keyboard input or RS232 input into a ASCII keyboard interface. It has been tested with the Apple 1 and Apple II models, but other vintage computers that take a parallel ASCII keyboard interface should work. Apple IIe and later Apple computers will not work with this interface. See my blog or video podcast for more information.

Pricing
Read the
Manual
before ordering (currently version is 2.2).
You must supply keyboard and/or cable for computer's RS232 interface.
Price for a keyboard adapter kit is $35, postage is $5 within USA, $10 elsewhere
I can assemble kits for an additional charge of $25. (specify either Apple 1 or Apple II - I can not build kits for other types of computers because I cannot test them)
Send
mike@willegal.net
an email for payment information.
Features:
Use a regular PS/2 keyboard on Apple II or other vintage computer that accepts ASCII keyboard input
Upper and lower case support
Support PS/2 numeric keypad (numeric mode only - cursor controls will not work)
Use PC terminal program (hyperterm) running on modern PC, for vintage computer input device
Echos PS/2 keyboard input to RS232 TX for input logging purposes
cntrl-R - cntrl-S - cntrl-T reset sequence pre-programmed
You can use terminal programs on a PC to send scripts of commands to target computer keyboard input interface. This is an easy way to load programs into vintage computers that otherwise must rely upon unreliable media, such as a cassette interface.
Can be adapted to other vintage micro-computers by rewiring connection to target PC
Operates from +5 volt supply (amperage requirements to be determined shortly)
RS232 runs at 9600 baud
Shift lock support - sending commands to change the LED status on the keyboard is trickier than one might imagine, but I finally have it working
Arrow mapping to Apple esc-char cursor movement (Apple II specific)
Cntl-Alt-Del reset support
Easily jumperable keyboard 16 pin socket pinout - will allow apple 1 and other vintage computers with DIP16 header connections to use straight through ribbon cable connection
Clear screen strobe support using cntrl-C cntrl-L contrl-R sequence (intended for apple 1)
Optional automatic reset and clear screen after power up
This Project was Inspired by Other Peoples Work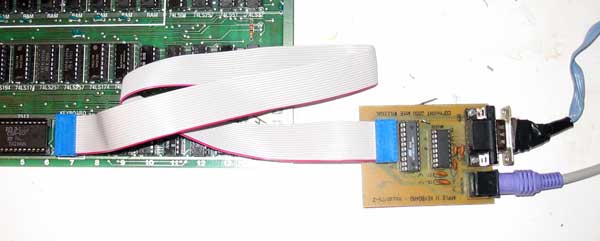 First Prototype Adapter Hooked Up to an Apple II on One End - a PS/2 Keyboard and a PC via RS232 on the Other
---
Back to Mike's Hobby Home Page