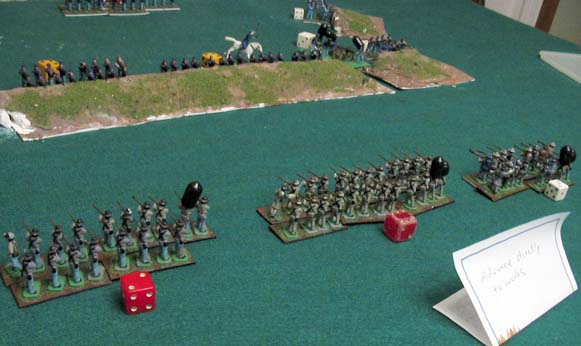 "A Perfect Sheet of Flame" : A New Version of the "Iron Brigade" Miniature Wargame Rules System


This is the latest version of the "A Perfect Sheet of Flame" rules system, which has replaced the "Iron Brigade" rules system. These rules are regimental level rules, with a scale of 1:20 figures = actual men and 1 inch = 25 yards real world distance.
Highlights of the changes from "Iron Brigade" to "A Perfect Sheet of Flame":

The major changes are in the game mechanics.


This version reverts to a written order driven simultaneous movement system.
There will no longer be a phasing and non-phasing player.
Command and control rules have been added.

The fire combat system is significantly revamped, though an alternative system similar to the previous table driven system will be retained as an option.
Morale system is slightly simplified, but the morale step system is retained
Free download "A Perfect Sheet of Flame" (in pdf format).
Note that I am considering changing the free download to a small 2.50 charge (using lulu.com) to help recover the cost of maintaining this web site.
Let me know how this would affect your decision to download.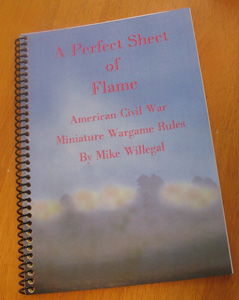 Help support this website, purchase a printed copy of Perfect Sheet of Flame (http://www.lulu.com/content/329478)
Printed in 6x9 format and spiral bound so the rules lay flat on your wargame table. Copies are $12.50 each.
Each purchase provides a few dollars and additional motivation to support and expand upon this website.


Feedback from gamers encouraged

Send an email to mike@willegal.net if you have feedback for, "A Perfect Sheet of Flame".

About the name change

So much time and so many changes have been incorporated into the rules, that I decided to change the name, so folks don't confuse this new version with the old version. "Sheet of Flame" is a commonly used metaphor for the appearance of a discharge of a line of black powder muskets or the view of an opposing battleline through the smoke of battle. I have found this metaphor is used in several different battlefield accounts. I even found the reference in a battle involving the Iron Brigade, which, I supposes, justifies the name change, a bit more than it would otherwise.




---
Back to Mike's Hobby Home Page