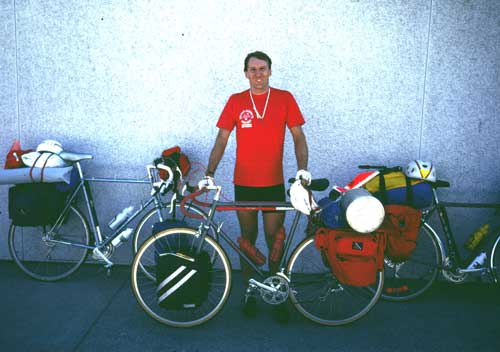 My 1985 Trek 520 Sport Touring Bike
Update:11/19/2014

- During one of last summer's rides, my rear wheel bearing disintegrated and I ended up walking seven miles home. For a long time, I have heard an occassional "ping" noise originating from somewhere on the bike. I never could identify the source of this noise. When the bearing completely disintegrated, it became clear. It turns out that that "ping" noise, is the sound of ball bearings colliding within the races. Turns out that if you don't have perfectly good races, the balls will hang up slightly and crash into each other, resulting in a ping noise. This noise sounds like someone plucking a tensioned spoke, but it isn't. In order to rebuild the wheel, I bought several helicomatic rear hubs on ebay. Though listed as running smoothly, the first, used hubs that I bought had less than perfect cones. I did find a NOS hub that was fine, and I used it to rebuild the wheel with new DT spokes and I am back on the road, with a practically new wheel. The interesting thing is that the NOS hub had fewer, but larger balls in the bearings than my original unit and also the used hubs that I bought. Hopefully it will last a long time.

Update:8/19/2012- Replaced the replacement Shimano Deore II rear deraileur with a Shimano 600, just like the bike originally had. I found the Shimano 600 on ebay and got it at good price because it needed an overhaul and new bogey wheels. Fortunately there was no play in the mechanism, so it was a good buy. After a few outings, I feel it shifts vastly better than the Deore II ever did. Adjustments are simple, once the cable is clamped on, there are just two stops, one at each end of the freewheet to adjust.



Update: 7/6/2010

- Follow my retro blog, where each week, I'll recall a small part of a bicycling adventure I took some years ago: http://www.willegal.net/blog/?cat=11


After quite of few years of very infrequent use, I've recently spent some quality time on my old Trek 520. Much to my surprise, some internet browsing has revealed that this bike and the old lugged steel framed Treks of it's era have achieved a little bit of a semi-cult following. This is interesting to me, because at the time I purchased it, the 520 really wasn't anything special. At the time, serious road bike enthusiasts, often purchased far more high end Italian road bikes with very tight geometries. Touring was a small niche market and most shops only stocked one or two touring bikes at any time.

Now that things have changed, I'll share what I know about this bike on this site. First I'll provide a little background. This is the first and only quality bike that I have ever owned. I lived in South Florida at the time I bought this bike. I was planning on doing some loaded touring, but knew that most of my riding would be training type rides. The bike I really wanted was a Trek 720 touring bike, but I just couldn't justify the extra cost and the idea of a sport bike seemed to meet my needs, a little better, than an full out touring bike. I test rode a few bikes and though I ended up with the Trek. I sometimes think that the bike I should have purchased was a Nishiki Cresta. That Nishiki Cresta rode very nicely during that test ride and was $100 cheaper. I think I just didn't know enough about the Nishiki company to go that route. Another thing that the Trek 520 had going for it, was a spectacular paint job.

For a couple of years after I bought the 520, I did quite a lot of riding. As expected, most of the rides were training rides, but I did a couple of tours. One was a van supported tour and I also did a three week fully loaded tour in the Rockies. Hard to believe, but I even raced that 520 a couple of times in a beginner criterium.

Training Rides:

The majority of my riding was on flat, but often windy roads of South Florida. During my peak cycling period, I was riding up to 160 miles a week. Typically 20 miles 3 mornings during the week, 60 miles on Saturday and 40 miles on Sunday. I rode a couple of centuries during this period, doing one in 5 hours and 10 minutes. For training rides, the 520 was perfectly comfortable, but it didn't have spectacular performance. Riding next to my friend's, Cologno with Campy Super Record components put things in proper perspective. This was not and is not, a race bike. One thing I could do, that my friend couldn't do, was ride no handed quite easily, though the bike always has had a very slight tendency to pull a bit to the right. I'm not sure if the frame is out of alignment or not, but it's always had this very slightly annoying tendency. This is not noticeable with your hands on the handlebar, but it's always annoyed me, a bit, just the same. It would be interesting to hear from other vintage trek owners to see if they've had the same issue. Usually, I would remove the rear rack in order to give the 520 a more sporty appearance. I found that I could climb quite well, compared to my friends. I doubt that the bike had anything to do with this, but who knows. Handling was always OK, but I found that handling improved dramatically the day I put some Continental Super Sport tires on it. I've tried a number of different tires on this bike, but those particular tires transformed the handling of this bike to a surprising extent. I bought a close 6 speed range gear set and SunTour Superbe Pro short cage deraileur, instead of the 5 speed touring style for training on the flats of Florida.

Races:

I rode this bike in a couple of beginner criteriums, and it performed quite well. In one race, the guy in front of me crashed when his tubular tire rolled off the rim in a corner. I slammed on the brakes and ended up doing a header over the handlebars. Fortunately the only damage to me or the bike was a a tear on the rear of the bike's seat covering. I'm sure a full up racing bike would have handled the corners a bit better, but I really didn't have any serious issue except for the guy crashing right in front of me. Overall, the 520 did it's job quite well.

Touring:

I went on two tours with this bike. One was a van supported ride through several hundred miles of Northern Florida over a weeks time. This was a pleasant experience, and the bike gave me no problems whatsoever and performed well.

The second tour was a fully loaded, unsupported, 800 mile Bikecentenial trip through the Northern Rockies. The picture at the start of this page, is of me at the Bikecentenial Headquarters on the first day of that trip. This tour certainly was a test of this bike's touring capabilities. The tour had 12 participants with a variety of equipment. In my estimation, the 520 stacked up quite well with the rest of them. The trip took us from Missoula Montana to Jasper Alberta over period of three weeks. Prior to this trip, I purchased parts for and built new wheels for the trip. For loaded touring, I felt I need to use slightly fatter 700Cx32 tires than the narrow tires that came with the bike. The Weinmann A-129 concave rims I purchased, seem to be the perfect match for a loaded tour bike. I bought front racks and panniers for front and back. For this sort of the tour, the 520 turned out to be a great bike. Loaded down, the ride over bumps smoothed out considerably, sort of like a Cadillac with a soft suspension. I wonder to this day what a 720 would be like, since it had a reputation of being a very smooth loaded tourer. Several of the folks on the tour had new Cannondale aluminum tour bikes. A couple of those cyclist complained of back aches at one time or another. Those frames were too stiff. Handing on the 520 was almost always great. I might have experienced a slight bit of front wheel shimmy a couple of times on very fast mountain descents, but it was never enough to seriously trouble me. In fact, I can only vaguely remember this shimmy. It certainly was not very significant or I would have remembered this more clearly. With the relatively short (for a touring bike) side stays, I had to arrange keep some weight in the front panniers to balance the bike. I found this out during a couple of cold rainy days, when I was wearing much of my clothing, which I normally kept in the front panniers. During these times, the front wheel got a bit light and I had to move some weight forward from the rear panniers. You wouldn't want to do a loaded tour on this bike with rear panniers, alone. Also, the short side stays meant there isn't a lot of extra clearance between your foot and the panniers, but this didn't affect me very much. I had two problems with this bike during this trip. One was a flat front tire. My front tire had received a small cut prior to leaving on the tour. I didn't bother to replace it because it didn't give me any trouble on my training rides and I had a folding spare, anyway. I was riding over a gravel path when I finally got a hole in the tube because of this small cut. The other problem was a couple of broken spokes, that I only noticed when I arrived back at home. I had laced my own wheels and at the time, attributed these broken spokes to my inexperience with wheel building. I've recently learned that the Maillard freewheel requires a little extra dish and could have contributed to the problem with broken spokes. The brakes were reliable, but required a lot of effort to work during long mountain descents. One other fellow on the trip had a slightly older Trek and his frame broke near the head tube. I'm not sure if this was common with that era's Trek's, but figured I'd mention it.

Later on, when my kids were little, I pulled a Rhode Gear Chariot trailer, with my kids aboard. The Trek handled this job just fine and I was glad to have the granny gear available.

A little bit about the components on this bike.

Wheels: I destroyed the original 700c Rigida rims when I ignored the "no bikes" sign and rode through the New River Tunnel in Fort Lauderdale, FL. I don't know about these days, but the drainage grates at the bottom of the "New River" tunnel were not bicycle friendly and I was lucky to emerge unscathed, though the rims did not survive. I think the Rigida Rims were decent, but not an especially fine item. For training, I've replaced them with nice Mavic rims, that appear to be a step up in quality. I built up new wheels on the old hubs and the Mavic rings. I found that they were very easy to true. I liked and still like the 5 or 6 speed Maillard rear hub with it's quick change capability. I bought a second Maillard freewheel and hub when I built the Weinmann touring wheels. I could freely exchange gear sets between wheels, though it did require a deraileur adjustment. I recently found that the Maillard hubs have issues with reliability and are considered a poor design, but they worked very well for me. Some consider the extra dish required to build a wheel on these rims stressful on spokes. I have had 3 spokes on one wheel break after thousands of miles, but no other problems. The original front Normandy hub currently needs replacement, as the races are pitted and somewhere along the line, one of the seals self destructed and was lost. Who knows, maybe it was damaged in the New River tunnel and I didn't notice back then.

Brakes: The Shimano 600 brakes are good, but require a strong hand, especially when loaded down and headed down long descents. On the plus side, they aren't too powerful or grabby, so that you have fine control, when needed. During the days when my Trek 520 was new, I rode one of those brand new mountain bikes, and almost flew over the handlebars when I first applied the brakes. They were very grabby and powerful, compared to my 520's Shimano 600s.

Drive Chain: The half step plus granny gearing takes a little bit to get used to. For the time, 15 speeds, was a lot of gears. With the three chain rings and five rear gears, sometimes there is a bit of fiddling around to find the right gear for a given situation. Compared to more modern systems, there is very little overlap between the combinations, and I regularly use 13 of the 15 gears. The only combinations that are not used are the two small gears on the chainwheel with the granny chainring. I have replaced the original 32 tooth granny with a 26 tooth gear. I think Trek sold it with the 32 chainring because the jump up from a 26 or 28 to 45 is a big one and that shift never goes smoothly. A few years ago, I replaced the Shimano 600 rear deraileur with a newer Delore XT. This settup is not shifting all that smoothly when I go between the bigger rear cogs, but I don't think that it is any worse than the original Shimano 600. Other than these changes, I am still running the original drive train, so it couldn't be too bad of a combination. At one time, I also tried a 26 tooth biopace granny, but it is not something that I would recommend, since it hard to get into a good rhythm with this bizarre, almost square shaped chain wheel. For training on the flats of Florida, I bought a closer ratio 6 speed freewheel, and it works well, but I'm not currently using it. On the flats of Florida I rarely used the granny gear. These days, as a much older, heavier rider, in hilly Massachusetts, I do encounter a few hills where the granny gear comes in handy. For loaded touring, it is essential. The shifters are on the downtube and with a half step system, I can easily reach both shifters with either hand. This makes the double shift that is often required, a one handed operation. Keep in mind that this is friction shift system, index shifters were not yet available at the time when I purchased this bike.

Frame: Smooth ride when loaded touring and nice stable ride for training rides and commuting. I never had trouble staying up with my friends who had all out racing bikes. At times in the past, I has thought that the top tube is a bit on the long side, but at this point I don't believe that is the case. I think if it were any shorter my knees would be too close to the handlebars, when I am on the drops. This bike was supplied with a quality Blackburn rear rack attached via braze on's and had a single set of braze on's on the front fork for a rack or fender. There is a pump peg on the head tube, so that the pump is placed under the top tube. At times anoying because it is more easily knocked off than a pump placed along the seat tube. However it allows for the two sets of braze on's for water bottles to be placed within easy reach of a rider. One is on the down tube and the other on the seat tube. Note in the picture at the top of this page how the other bikes have the second water bottle on the bottom of the down tube. The rear wheel dropouts have a screw adjustment for fine tuning the alignment of the rear wheel. I'm not sure where the problem lies, but the bike pulls very slightly to the right when riding no-handed. When new, the paint job was spectacular. Now it has quite a bit of wear and tear on it.

Headset: At one point, my tinkering got me in trouble and I ruined the factory Shimano 600 headset. I don't remember what I did, but it cost about $40 to install an exact replacement. I haven't had any trouble since. One bad thing about this headset, is that it doesn't take normal wrenches. It takes a special wrench made by Shimano.

Pedals: Eventually the bearings on the SR pedals gave out and I couldn't adjust an annoying click out of them. A friend gave me a pair of the Campy Super Record pedals, when he upgraded to the new fangled clip on pedals. Those Campy pedals have been a great addition. I still use old style toe clips and straps. I guess if it works, no need to change. All of these years, I've fallen over only once or twice when forgetting to loosen the straps for a stop. I can always ride in street shoes, in case I want to.

Handlebars, seat, misc: Sometimes, when I'm tired, I wish the handlebars were a bit higher up. I haven't spend a lot of time on the drops, perhaps they are a bit too low. I've never felt a need to replace the San Marco seat, so it must be a decent item. Not much else noteworthy to say about these topics.

All in all, I really like my Trek 520, but I still am surprised about how this class of bike could have attracted a following after all these years. Keep in mind, at the time, I purchased it, it was a mid range sport touring machine, that had no real outstanding qualities of any sort. I'm surprised to see that Trek still makes a bike called a 520 and not a 720 . Most folks that see my old 520, mention how old it is, kind of like what people would say if they saw you driving around an old Ford Falcon.

Anyway, to this day, I can't find anything seriously wrong with my 520 and can't find any justification for supplementing or replacing it with anything, else. It sure would be nice to be riding the latest composite road bike with shiny new decals and paint, but that 520 does every job I ask of it with simple competence. It is hard to image a new $2000 road bike or even a new $1200 Trek 520 could do that much better.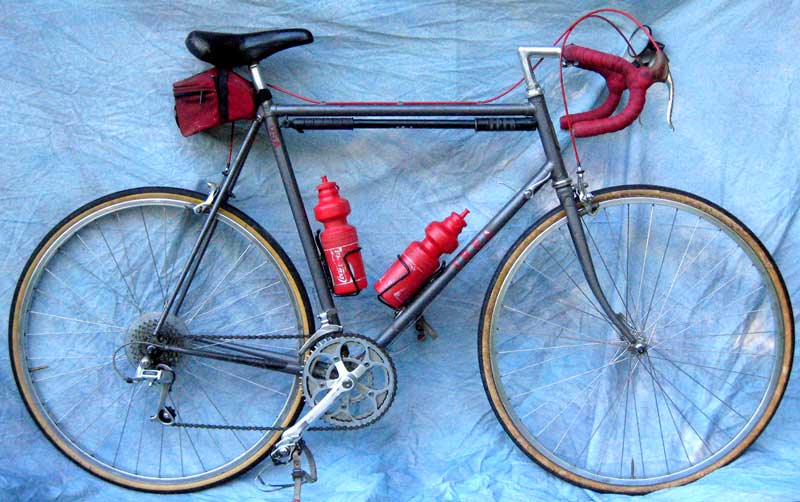 A little worn, but still kicking - this is how she looks these days