The SCELBI Mini-Computer

About My Reproduction SCELBI and How to Build Your Own SCELBI

I have a reproduction SCELBI 8H up and running and have boards sets available for sale. Go to my SCELBI kit page and/or follow my blog to find out about my reproduction and what you need to do, to build your own reproduction SCELBI.


About the SCELBI "Mini" Computer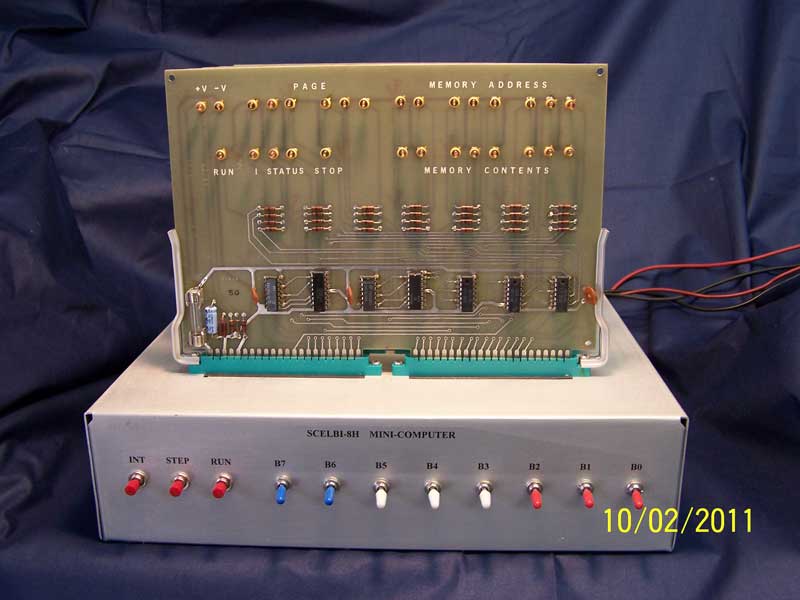 SCELBI's came built - or as kits - this one was built from a bare board kit

images of the SCELBI 8H provided by Curtis from Kentucky


The SCELBI (SCientic-ELectronics-BIology) was arguably the first commercially available micro-computer marketed toward hobbyist. The company name, SCELBI, which stands for SCientic-ELectronics-BIology, clearly indicates that the business clearly had a plan to penetrate specific markets which were not necessarily hobby oriented. Frank Zawacki, an early employee, recommends this site for a brief story about the founding of the company. http://www.atarimagazines.com/creative/v10n11/6_The_early_days_of_persona.php Frank told me, that SCELBI was incorporated and funded to the tune of $100,000. Frank's father, helped raise money and managed finances for SCELBI. They both worked for stock in those early days.

The SCELBI computer business didn't survive for very long after the advent of the incredibly inexpensive, 8080 powered, Altair. SCELBI Computer Consulting found success publishing books and at one point grew to employ 18 people.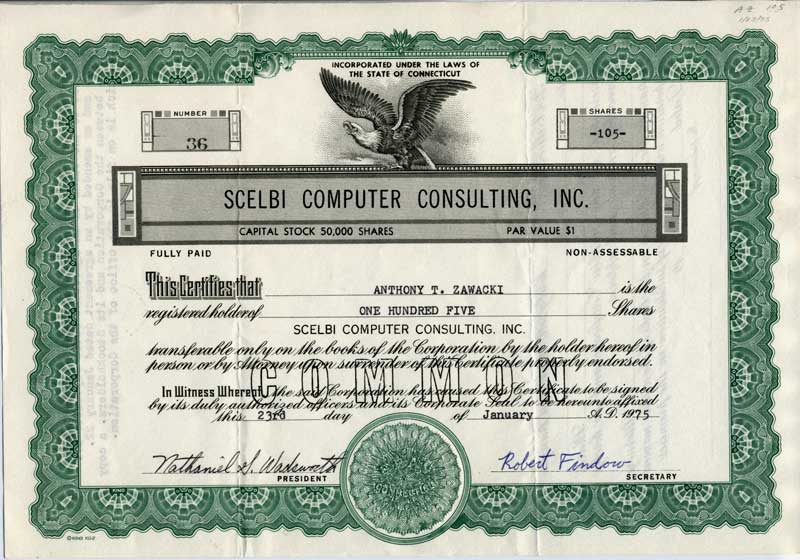 The computer, itself, was built around the Intel 8008 architecture. There were two versions of the SCELBI.


SCELBI-8H

The first version was called the 8-H. The H standing for hobbyist. It had the following features.

8 Slot backplane with the following cards:

Front panel card
CPU slot
Data Buffer and Input slot
Output port slot
4 Memory slots - up to 1K SRAM each slot for a total of 4K. It took 32 256 bit 1101 memory chips to make up 1K bytes of memory that each board supported.


On the back of the chassis was a panel which contained

8 8 bit parallel output ports
6 8 bit parallel input ports
the power Supply connection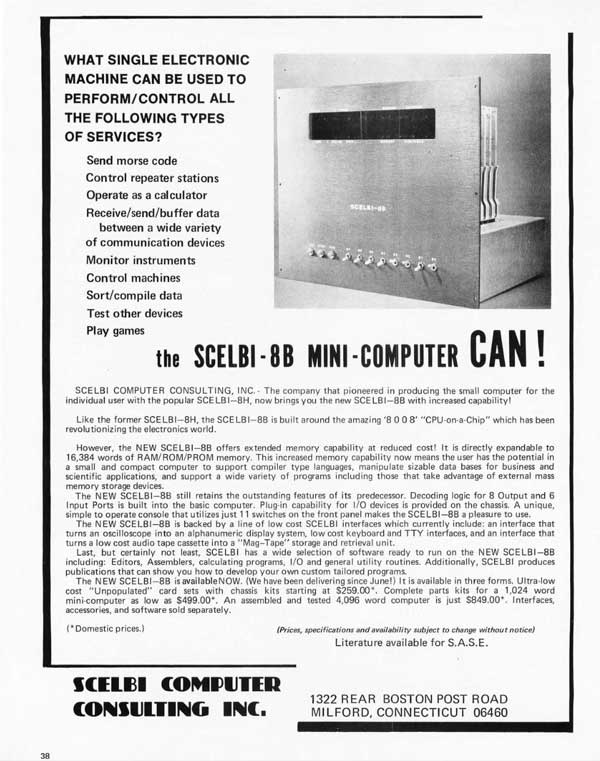 BYTE Magazine #1, September, 1975 had this ad for the SCELBI 8B
SCELBI-8B

The second version was called the 8-B. The B standing for business. It had all the features of the 8H, but added support for up to 16K of memory by adding an additional memory addressing card and updating to 4K memory modules using 2102 memory.

9 Slot backplane with the following cards:

Front panel card (same card as 8H)

CPU card (same card as 8H)

Data Buffer and Input card (same card as 8H)

Output port card (same card as 8h)

Memory expansion cart

4 Memory slots - up to 4K SRAM in each slot for a total of 16K. Each card could hold up to 32 1K bit 2102 memory chips
The chassis was essentially the same as the 8H, though the extra slot in the backplane for the memory addressing card took a bit more space in the top of the chassis
SCELBI Computer Consulting offered a power supply or the hobbyist could find or build his own. SCELBI only sold about 20 of their version of the power supply, so most hobbyists must have found or built their own. The same power supply was used for both the 8H and 8B, even though -9 volt amperage requirement was far less on the 8-B. The 8-B's 2102 memory was 5 volt only, dramatically reducing the load on the -9 volt supply.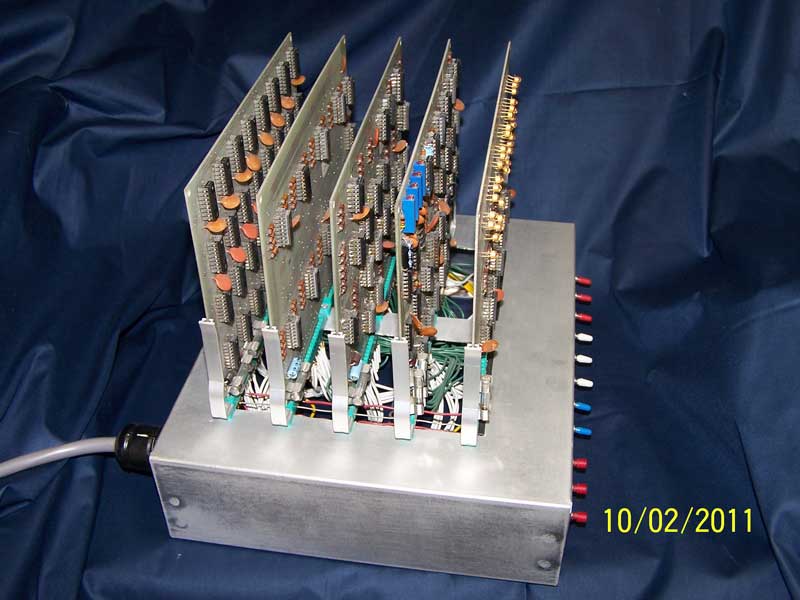 Side View of Curtis's SCELBI-8H - only 1K of Memory is Installed on this SCELBI (32 1101 SRAM chips on rear most board)

The SCELBI was sold as a kit, PCBs, or as assembled units. There were several kits available. The chassis with the "#1105 backplane harness board" was a separate kit. You could buy the SCELBI kit without the chassis, but it was up to you to find the edge connectors, I/O connectors, toggle switches, etc and wire everything up by yourself. The pictured unit has only 5 slots and was not purchased with the chassis kit. The edge connectors are connected together by individual wires. Most original SCELBI's are found with the factory backplane and a blue anodyzed front panel bezel. There apparently was a full enclosure designed, but I have not found any images or evidence of any actually being sold.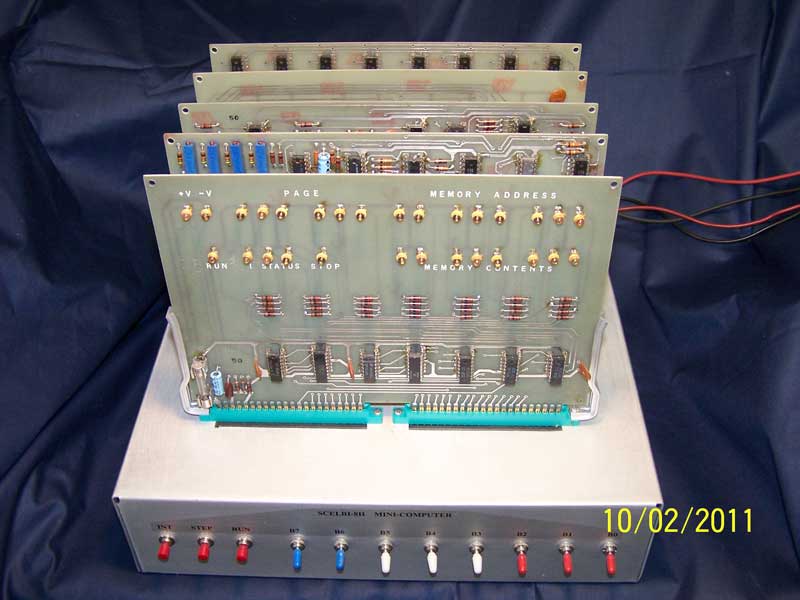 Another View of Curtis's SCELBI-8H


The default I/O capability was limited to the extremely difficult to use front panel. Usage of the computer involved switching 8 toggle switches to preset the value of the address/data bus. The user would then clocking the CPU with another toggle switch to step the 8008 cpu. During the appropriate cycles, the 8008 would then read the data bus value as set by the toggle switches as if it were reading memory or an I/O location.
Expansion capability was through a series of parallel ports on the back panel that made use of 11 pin vacumn tube/relay sockets. Serial protocols could be implemented by "bit banging" individual bits of this parallel port. There were several standard expansion options including a cassette interface, serial port and a terminal output device that made use of an oscilloscope for display purposes. Detailed information on these expansion devices is very difficult to find.


What Did They Say About SCELBI Computers "Back in the Day"
When SCELBI arrived to "market", except for the Amateur Computer Society newsletter, there was no way for computer hobbyist to share information. However, a number of clubs and newsletters arrived on the scene as the Mark-8 and particularly the Altair hit the newstands on the cover of widely distributed magazines. Except for pricing issues, and later on, performance, as the Altair's 8080 vastly outperformed the 8008, it's hard to find any bad comments about SCELBI in those newsletters. Here are some sample comments that I dug up. Note that Steve Ciarcia, is the same person who latter wrote the Circuit Cellar column for Byte magazine.

Mark-8 User Group Newsletter volume 1, #4, December 4th,1974

STEVE CIARCIA (address removed) HAS A LOT OF INTERESTING THINGS GOING. HE STOPPED BY SCELBI'S OFFICE AND TOOK A LOOK AT THEIR KITS AND PC BOARDS AND TALKED TO THE MANAGEMENT. HE WAS SO IMPRESSED WITH THEIR DESIGN AND QUALITY THAT HE BOUGHT AN UNPOPULATED BOARD SET FOR $130 AND SHOULD HAVE HIS MACHINE RUNNING NOW....

Mark-8 User Group Newsletter volume 1, #5, Feburary 8th,1975

STEVE CIARCIA (address removed) HAS HIS SCELBI COMPUTER RUNNING AND IS EVEN MORE ENTHUSIASTIC THAN BEFORE REGARDING THE QUALITY OF THE BOARDS AND THE DESIGN OF THE SYSTEM. I'VE HEARD RUMORS THAT THE PRICE OF THEIR BOARD SETS HAS BEEN REDUCED. THAT MAY NOW BE THE BEST WAY TO GO. THEY DO PUBLISH A USER NEWSLETTER. PERHAPS THEY OFFER THAT ON A SUBSCRIPTION BASIS.

Amateur Computer Society Newsletter Vol III, No. ll - March, 1975

Mini Micro Mart has this to say about other micros: "SCELBI is the most expensive route and probably the best--surely the way to go if you don't WANT to build your own, or even if you want to build your own and have a minimum of technical software background. Good boards, good design, and most important, FULL support, even to the systems level ••••

Mark-8 User Group Newsletter volume 1, #9, August 3rd,1975

SCELBI CONTINUES TO ADD TO THEIR LEGION OF SATISFIED OWNERS. THEIR MACHINE MAY NOT BE THE CHEAPEST OR THE PRETTIEST BUT IT IS EASY TO ASSEMBLE, DOES EXACTLY WHAT IT IS SUPPOSE TO, DELIVERY IS ON TIME, AND SUPPORT IS SUPERB. THEIR PROGRAMMING MANUALS CONTINUE TO EARN ABSOLUTELY RAVE REVIEWS.


Cheat Sheet
Download this PDF of an 8008/SCELBI Cheat Sheet.
For More Information

Cameron Cooper has made a great deal of interesting information about SCELBI on his www.scelbi.com website. Among other things, he has technical information including scematics, manuals and board layout diagrams. This 8H system description document, which can also be found on Cameron's documentation page, is an original document used by the founders, Nat Wadsworth and Bob Findley to describe the computer to prospective customers. If you are interested in the SCELBI, I highly recommend visiting his site.